Welcome to the second issue of Naturescapes, the NSW National Parks and Wildlife Service's e-newsletter for visitors.
Autumn has arrived and with the Easter holidays upon us, it's a great time of year to head outdoors and enjoy the many faces and colours of NSW's extraordinary parks and reserves. From beach to desert and bush to rainforest, the landscapes of our national parks are almost as diverse as the experiences you can have in them!
In our first Naturescapes, we asked for your feedback and suggestions on our new e-newsletter and we've included many of your great ideas in this issue, including walking and camping features and new opportunities to share your pics, tips and experiences. Keep sending us your comments so we can keep bringing you the best news and insights from NSW's national parks.
Experience Australia's best right here in NSW's national parks
A unique island ecotourism experience, a carbon-neutral tourist park just a stone's throw from the Sydney CBD, and a grand touring route through a spectacular World Heritage area are the NSW national park tourism experiences recognised as some of the nation's best after taking out top honours at the Qantas Australian Tourism Awards in February.
The national awards are the Australian tourism industry's highest honour, recognising excellence and achievement in the delivery of tourism experiences including attractions, tours, accommodation and events.
For visitors, the awards highlight the exceptional quality and diversity of the experiences on offer right here in NSW's national parks. Planning your next getaway or looking for a great new nature experience? Look no further...
Montague Island Tours - No ordinary nature tour, this multi-award winning eco-tourism experience offers half-day and overnight adventures to magnificent Montague Island off Narooma on the far south coast. The tours offer a unique exploration of this breathtaking nature reserve, its historic lighthouse complex and amazing wild inhabitants - including scores of Australian and New Zealand fur seals and NSW's largest Little Penguin colony.

NSW National Parks and Conservation Volunteers Australia have teamed up to offer Overnight Conservation Tours through CVA's Naturewise program, giving visitors a chance to take part in important wildlife conservation and research activities on the island, with accommodation in the heritage-listed lighthouse keepers' cottages.

Montague Island Conservation Tours was awarded Australia's best Ecotourism experience for the second year running at the Australian Tourism Awards. For more info, visit the Montague Island Tours website.


Lane Cove River Tourist Park - A perfect escape for the climate-conscious visitor, Lane Cove River Tourist Park offers a unique and environmentally sustainable nature experience just 10 kilometres from the heart of the Sydney CBD.

The park, located in Lane Cove National Park in Sydney's northern suburbs, offers 28 fully serviced eco-cabins and more than 300 caravan, campervan and tent sites, as well as a range of nature-based activities and experiences such as native wildlife walks and opportunities for visitors to join in bush regeneration and conservation activities.

The park generates its own solar power, uses recycled materials for building and maintenance, practices on-site water harvesting and recycling and employs a range of measures to reduce the park's carbon footprint, such as the use of electric vehicles. Visitors can also offset their stay through a carbon credit scheme.

Lane Cove River Tourist Park was awarded Australia's best Tourist and Caravan Park. For more info, visit the Lane Cove River Tourist Park website.


Greater Blue Mountains Drive - The national parks of the Blue Mountains are the star attraction along the award-winning Greater Blue Mountains Drive, a comprehensive touring route that links the vast and spectacular World Heritage landscape to the important tourism regions that surround it.

Covering 1200 km of major connecting roads, the Drive links Sydney with its World Heritage backyard and beyond to the diverse landscapes and experiences of inland New South Wales. It includes a series of 18 unique Discovery Trails branching off the main route that provide opportunities to explore the majestic landscapes of the Greater Blue Mountains - including the Blue Mountains National Park, and the activities in and around them, such as popular walking trails and local attractions.

The Greater Blue Mountains Drive, a joint initiative of the NSW National Parks and Wildlife Service, Blue Mountains Tourism Limited, local Councils and regional tourism organisations, was this year named Australia's best New Tourism Development.

For more info, visit the Greater Blue Mountains Drive website.
New discovery gateway for visitors to the Pilliga
It covers an area around twice the size of the ACT, a vast native forest harbouring an extraordinary diversity of bird and animal species and important Aboriginal cultural heritage.
Now visitors to the Pilliga Forest in Heart of Country NSW can glimpse the hidden wonders of this unique haven at the new Pilliga Forest Discovery Centre.
The Discovery Centre, located at Baradine, offers visitors a gateway to the largest area of semi-arid woodland in NSW, with fun exhibitions and displays revealing some of the amazing historical and natural features of the Pilliga, and an interactive 'walk in the forest' experience that brings the landscape and its secrets to life.
The creation of the Centre has been a community effort, with many local people sharing their stories to inspire the displays. And the building itself is a stunning example of sustainable design and technology, employing solar power, rainwater storage, recycled materials and special design features to maximise energy efficiency and reduce its carbon footprint.
The Pilliga has long attracted bird lovers for its abundance of woodland birds and a bird route through the forest offers visitors the chance to spot some of the 230 plus recorded bird species, including barking owls and turquoise parrots.
The Sandstone Caves of the Pilliga are a special place for the Gamilaroi Aboriginal people, and are best experienced on an Aboriginal Discovery guided tour.
Next time you're planning a trip to the area, don't miss the Pilliga Forest Discovery Centre - it's a great starting point for an exploration of the region, and an excellent doorway to this vast, ancient and unique landscape.
Pilliga Forest Discovery Centre is located in the town of Baradine, between Coonabarabran and Narrabri. The Centre is open everyday and entry is free.
For more info, call the Discovery Centre on 02 6843 4000.
Volunteers keep Chase Alive 20 years young
Every year, volunteers around the state donate thousands of hours of time and energy to undertake a wide range of conservation and education activities in our national parks, from bush regeneration to tour guiding.
In Sydney's north, 2009 marks a very special celebration of volunteers and volunteering as Chase Alive, the signature volunteer program for Discovery and national parks such as Ku-ring-gai Chase and Lane Cove, turns 20.
To celebrate Chase Alive's 20th birthday, Naturescapes asked their longest serving volunteer, Madeline Forbes, to share with us her experience of becoming a national parks volunteer and her time with Chase Alive.
How did you become a Chase Alive volunteer?
There was I, up at 33,000 feet in an Ansett flight from Sydney to Brisbane when I saw in the inflight magazine a small ad seeking people to volunteer their time to work with National Parks. They were especially seeking folks who would staff the Kalkari Visitor Centre on weekdays.
I had not so long completed an Associate Diploma in Recreation and was working part time with the Senior Adult Unit in health promotion to keep the mature adults in our community fit and healthy, so the chance to enhance people's enjoyment of our splendid bushland was appealing.
When was that?
That was the year 1990 and in 2009 I am still rostered on to be at the front desk at Kalkari in Ku-ring-gai Chase National Park!
Tell us about a day in your life as a Chase Alive volunteer.
Each day at Kalkari is unpredictable. There is the surprise of locals bringing in 'wildlife specimens' to be identified; backpackers from overseas, all shiny faced with perspiration after a climb up the hill, seeking information; and English visitors who seem to have come straight from the airport because they just have to see a kangaroo!
What do you enjoy about volunteering?
It's always a pleasure to work with like-minded people, and our shared love of the Australian bush is the basis of the bond of the Chase Alive volunteers.
As we meet and greet all who come through the front door - the smiling grandparents with their young charges, the noisy school children on excursions, the excited tourists - we are conscious of the fact that we are the public face of the NSW National Parks and Wildlife Service.
More than 450 Chase Alive volunteers have helped to deliver the National Parks Discovery Walks Talks and Tours Program in parks in Sydney's north over the past 20 years, as well as staffing Ku-ring-gai's Kalkari Discovery Centre 364 days a year and participating in important conservation projects such as threatened species monitoring and bush regeneration.
As a fitting tribute to the invaluable contribution of the Chase Alive volunteers, its 20th birthday will be officially celebrated during this year's National Volunteer Week between 11-17 May. For info on what's happening, call Kalkari on 02 9472 8949.
To find out how you can get involved as a volunteer in a national park or reserve near you, visit our website or call your local NPWS office.

Try this! Back Pedal Cycle Tours
NSW national parks offer fabulous opportunities for cycle touring holidays. Back Pedal Cycle Tours, based in Bega and Eco Certified, provides holistic cycle touring holidays around the state, including 'child centred' tours which are perfect for families.
There are a range of tours on offer - explore the alpine environment of the Snowy Mountains, the lush green rainforests of the NSW Far North Coast or the coastal parks of the Sapphire Coast in the far south of the state.

All tours afford cyclists spectacular views, scenery and experiences, including waterfalls, lookouts, valleys, rivers and an abundance of wildlife. Selected tours also offer the opportunity to take day trip options, including canoeing, horse riding and food tasting.
And don't think that a cycle tour means you will be roughing it - Back Pedal Cycle Tours are fully supported - you'll be able to enjoy your morning coffee and you'll also be treated to some great meals along the way. In case the cycling does get too much for you or your crew, there is always a seat in the support bus.
Back Pedal Cycle Tours prides itself on sharing a supportive, friendly and informal atmosphere, allowing you to really relax and enjoy the riding, camping and the spectacular scenery - it's your holiday after all!
For more information visit the Back Pedal Cycle Tours website.

Discovery tours reach for the stars
Survey solar systems, gawk at galaxies, stare at stars and revel in the rich Aboriginal mythology of the southern skies from your local national park.
As part of the International Year of Astronomy 2009 - a global celebration marking the 400th anniversary of Galileo first turning a telescope to the sky - we've teamed up with local astronomers to offer visitors a chance to enjoy the night skies in all their glory, from the pristine surroundings of NSW's national parks.

An exciting new feature on the NSW National Parks Discovery Walks, Talks and Tours program for 2009 is Starry, Starry Night, a fantastic evening tour that explores the essentials of astronomy, Aboriginal astronomy and even nocturnal Australian wildlife through storytelling and star-gazing with expert guides.
National Parks provide the perfect dark night skies for star-gazing, so it is only natural they play a starring role in this universal celebration of astronomy and its contributions to both ancient and modern society and culture.
Starry, Starry Night Discovery Tours will be held throughout the year, with plenty happening during school holidays. Keep an eye out for special events and activities, including Moon Madness during the Winter School Holidays and the Great International Star Count during the October School Holidays.
To find star tours and other Discovery walks, talks and tours in a park near you, visit our website or phone 1300 361 967.
WIN a Family Discovery pass for 2 adults and 2 children, worth up to $50! To enter the draw, send us an email with your full name, address and phone number. Entries close on 6 May 2009. Terms and conditions apply.
Coffs island icon to reveal its wonders
A flight into the airport at Coffs Harbour will bring most people the closest they'll ever get to the striking rocky outcrop of South Solitary Island just off the Coffs Coast.
As the holiday home for thousands of breeding seabird colonies, the island and its historic lighthouse - which are surrounded by the Solitary Islands Marine Park - are normally closed to the public.
This July however, a limited number of people will be able to visit the most remote lighthouse on Australia's east coast when the island opens for a week of exciting Discovery tours.
Get set for an amazing experience! Tours include return helicopter flights to the island with Precision Helicopters - including some stunning views of the Coffs Coast on the way - followed by a fully guided 1 hour tour of the island with a NSW National Parks Discovery ranger.
Visitors will explore the rugged beauty of the island and its lighthouse keepers' quarters which, at almost 130 years old, are the oldest buildings in the Coffs Harbour area. They'll also get a chance to observe the island's majestic sea bird lodgers, such as crested terns, silver gulls and sea eagles.
Located 8 kilometres offshore, the iconic South Solitary Island lighthouse has provided navigation for vessels since 1880.
Tours will take place between 4 - 12 July. Places are limited and bookings are essential. To find out more, phone the Coffs Coast Visitor Information Centre on 1300 369 070 or visit the Precision Helicopters website.
WIN two tickets to South Solitary Island, including return flights and a 1 hour guided tour, valued at up to $500! To enter the draw, send us an email with your full name, address and phone number. Entries close on 6 May 2009. Terms and conditions apply.

You can't go past a bushwalk for a truly authentic nature experience. From short, nature strolls to intensive, five-day hikes, walking tracks provide all kinds of opportunities to explore the extraordinary national parks and reserves of NSW. In this new feature - requested by you - we'll pick a park each issue and give you the long and the short of its walks!
The short walk - Hermitage Foreshore Track
1.5 kilometres, easy
Enjoy views up Sydney Harbour, past Shark Island to the Harbour Bridge on this leisurely walk through a strip of protected bushland that winds along the western edge of Vaucluse. Starting in Nielsen Park and finishing at Bayview Hill Road, the walk offers opportunities to swim or stop for a coffee, fish along the shoreline or extend your wanderings around the many shady paths of Nielsen Park.
The long walk - Manly Scenic Walkway
9.5 kilometres, medium difficulty
Going past areas of bushland and exclusive waterfront houses, this north side walk from the Spit Bridge to Manly (or vice versa) is the best way to get a complete 'harbour experience'! It hugs the harbour shoreline, taking in beaches, Aboriginal sites, community parks, forests, scrublands, pockets of subtropical rainforest and sweeping views of the harbour! Click here to download the PDF brochure for the walk.
For info on the full range of walks around Sydney Harbour National Park and in parks around the state, visit our website.

It's the mainstay of a national park holiday experience - pitching a tent or parking the caravan, settling in to watch the sunset and soaking up that feeling that you're a million miles from anywhere.
In last issue's survey, you told us you wanted to hear about national park camping opportunities so we're introducing our new feature, Camp Site, in which we'll be bringing you updates, tips and info on camping and caravanning in national parks around the state.
New campground opens in Oxley's gorge country
A new camping area deep within the gorge country of Oxley Wild Rivers National Park near Armidale is offering visitors the chance to experience real bush camping...with a few added creature comforts.

The Halls Peak camping area, located on the Chandler River, has been used for bush camping for a while but recent upgrades have put in place better facilities for visitors, including thirteen camp sites with pit fires, toilets and two day-use areas with picnic tables and wood-fired BBQs.

The area caters for self-reliant visitors looking to experience the seclusion of remote camping in an idyllic and peaceful setting with opportunities for swimming, fishing, canoeing or just relaxing.

Major works have enhanced the access road to the campground, but the road is still steep and challenging and is suitable only for high clearance four-wheel drive vehicles with low range, and experienced drivers.

Bookings are essential - for more info on Halls Peak or to book your site, contact the NPWS Armidale office on 02 6738 9100 or visit our website. Vehicle entrance and camping fees apply.


NSW Caravan, Camping, 4WD and Holiday Supershow
Don't miss this 9 day 'great outdoors' extravaganza at Rosehill Racecourse from 18-26 April. Be sure to visit the NPWS stand and pick up your free copy of the 2009 Guide to NSW National Parks - it's packed full of info on where to go, what to see, and of course, the best spots to pitch a tent!


Planning your next camping or caravan adventure?
You'll find all sorts of camping opportunities in NSW's national parks. Some offer all the creature comforts, while others are set in remote bushland clearings without any facilities. Click here to search for your next great camping or caravan adventure.

'Rock' your soul this Autumn with these geologically-inspired outdoor experiences!
Marvel at nature's underground limestone gallery on a tour of spectacular Wombeyan Caves in Wombeyan Karst Conservation Reserve.


Trek the rocky heights of the Warrumbungles' Breadknife and Grand High Tops walk for rewarding panoramic views in Warrumbungle National Park.


Admire canyons and stone arches along the Bungoona Walk as you climb to the summit and spy Queensland from Australia's largest granite rock in Bald Rock National Park.


Join a Ngiyampaa Aboriginal Discovery Ranger for a tour of the extraordinary rock art galleries of Mount Grenfell Historic Site and learn about their significance to today's Traditional Owners.


Gain new perspective on the sweeping sandstone cliffs and dramatic canyons of Blue Mountains National Park on a guided rock climbing or abseiling adventure.

Australians have stacked up a phenomenal 123 million days of stockpiled leave! That's one in four full-time employees with 25 days or more of annual leave up their sleeve.
It's true - more Aussies are choosing to work rather than take time off and with the leave stash adding up to some $33 billion in wages, it's having a serious impact on businesses and the Australian economy, not to mention on individuals.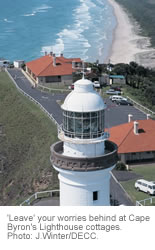 In an effort to encourage workers to 'unlock' some this accumulated leave and use it to holiday in Australia, the federal government has launched No Leave, No Life, a program aiming to equip employers and employees with the means to take on the work/life battle, such as information on managing leave and inspirational ideas for Aussie holidays and experiences.
NSW's national parks offer countless opportunities to escape, unwind and recharge - whether it's for a few hours, a few days or longer. Enjoying a park picnic or a camping trip are great ways to reconnect with yourself and with family and friends without breaking the bank. There are also excellent off-peak and mid-week deals to be had in our unique park accommodations, which range from beach cabins to outback homesteads to lighthouse cottages.
ENJOY 10% off the price of your mid-week stay at the spectacular Lighthouse Keepers' Cottages or beachfront Mildenhall Cottage in NSW's iconic Byron Bay State Conservation Area. Present your current NSW National Park Annual Pass number and receive a further 10% off! Offer available Mondays to Fridays between April and June 2009. Contact Byron Bay Professionals on 02 6685 6552 for more info. Terms and conditions apply.
It's been a busy season in our national parks, with action and adventure aplenty. Music festivals such as CMC Rocks the Snowys in Kosciuszko National Park proved a hot ticket, while heart rates fired up in the epic BMC Mountains to Beach bike race, which traversed the wilds of three national parks from the alps to the sea.

The community came together in support of the environment and our national parks for Clean Up Australia Day in March, while several hardy celebrities including Susie Maroney braved the chill of Sydney Harbour to raise funds and awareness for the endangered Little Penguin in the Fort Denison Dash for Cash, part of the annual Harbour Swim.
There's lots more coming up around the state this Autumn - here's a snapshot. For updates on events, activities and tours in parks near you, visit our website or contact your local park office.
4-19 April
2009 National Trust Heritage Festival
NPWS parks and sites around the state are hosting tours and activities as part of this year's National Trust Heritage Festival, an annual event that celebrates our environmental, cultural and built heritage. From astronomy nights to historical tours, there's plenty happening in our parks.
10-26 April
Discovery Walks Talks and Tours - Easter School Holiday Program
Take the family on a NSW National Parks Discovery tour this Easter. A huge range of fun and affordable activities - including Starry, Starry Night tours - are on offer around the state over the school holiday period. Read this issue's Discovery story and find out how you can go in the draw to win tickets!
18 April
Quarantine Station Community Open Day - Sydney Harbour National Park
Explore the fascinating history of North Head's Q Station through a range of fun and interactive tours and activities for kids and adults at this great Heritage Festival community event. Many activities on Community Day are free, with an optional gold coin donation that, along with a portion of the funds raised on the day, will go to Bear Cottage, NSW's first children's hospice. Find out more.

18-26 April
NSW Caravan Camping 4WD & Holiday Supershow - Rosehill Racecourse
Don't miss this mega-show for the camping, caravan and outdoor enthusiast! Visit the NSW National Parks stand for info on great national park camping and holiday opportunities and pick up your free 2009 Guide. Find out more.
2-3 May
WildEndurance - Blue Mountains
Looking for a personal challenge with even greater reward? WildEndurance is a 48 hour, 100km team trek through the spectacular Blue Mountains World Heritage Area that raises much needed funds for The Wilderness Society. Why not gather together a group of friends or colleagues and take on this exciting event - find out more.
4-12 July
South Solitary Island Tours - Coffs Coast
A rare opportunity to visit the beautiful South Solitary Island off the Coffs Coast. This unique experience includes return helicopter flights and a guided tour of the island. Read the full story and find out how you can go in the draw to win tickets!
13-24 July
Discovery Walks Talks and Tours - Winter School Holiday Program
Discovery walks, talks and tours run year-round in our national parks but school holidays are particularly exciting, with plenty of fun and affordable activities for the kids on offer in parks around the state - including Starry, Starry Night tours. Keep an eye on our website for updates on what's coming up in a park near you.
"My favourite park is Crowdy Bay National Park. There's a small camping area just off the main camping area at Diamond Head that's right on the beach. Visited the park in rainy, windy weather. The long, deserted beaches looked wild and spectacular".
Big thanks to Winnie from Earlwood, who sent through her Visitor's Choice! In last issue's survey, you said you'd like to share photos as well as tips and experiences so next issue, we'll be launching Postcards from the park - an opportunity for you to share your favourite photo that you've taken in a NSW national park and tell us about the experience that goes with it!
Share with us your favourite photo that you've taken in a NSW national park and you could win a one-year NSW National Parks All Parks Pass, valued at $190! To enter, email us a jpeg of your photo, along with a 75 word description and your full name, address and phone number. Terms and conditions apply.

Thank you to all our readers who provided feedback on our first issue of Naturescapes - we've included some great new stories and features as a result of your suggestions! We're constantly improving, so click here to send us your thoughts about the newsletter and what you'd like to see or read about in future issues!
Help protect the places you love
Get involved in the protection of your national parks and their wildlife through the Foundation for National Parks & Wildlife. Click here to subscribe to PAWS, the seasonal newsletter of the Foundation.



GREAT




THINGS TO DO




Minnamurra




Rainforest Centre

Less than two hours drive south of Sydney, in beautiful Budderoo National Park west of Kiama, you'll find the award-winning Minnamurra Rainforest Centre - a peaceful escape where you can immerse in one of the last remnants of the mighty rainforest that once covered the Illawarra region. Discover an extraordinary diversity of ferns, trees and wildlife along the raised boardwalk or enjoy a walk through the forest to the Upper Falls. The Centre's Lyrebird Café offers light meals and refreshments, or you can enjoy a picnic or barbecue beside the Minnamurra River.




GREAT




PLACES TO STAY




Mt Wood Homestead

There's nothing quite like relaxing on a verandah with a cool drink in hand, enjoying a beautiful western sunset – an experience that awaits you at historic Mount Wood Homestead in Sturt National Park. Mount Wood offers you a unique opportunity to enjoy the remote beauty of the NSW Outback from the comfort of an award-winning, heritage-listed park accommodation. There's plenty to keep you busy – enjoy a scenic self-guided drive tour, take in the panorama from the summit of Mt Wood or grab your camera for some excellent wildlife and landscape photo opps. Mount Wood Homestead is self-catering and is located 20 minutes drive from Tibooburra in the state's north-west. For more info, phone 08 8091 3308.




WILDLIFE SPOT




Lyrebirds - Nature's




music-mixers

It's the proud centrepiece of the NSW National Parks & Wildlife Service logo, yet to most people the lyrebird is still something of an enigma. These bashful birds are the deejays of the wild – they can imitate almost any sound, including other birds and animals, and even human sounds! They've been heard to mimic chainsaws, alarms, horns, trains and more.

Read our factsheet about lyrebirds and see if you can spot (or hear) one next time you're in a national park!





ABOUT NSW




NATIONAL PARKS

NSW's national parks and reserves are managed and cared for by the NSW National Parks and Wildlife Service. There are more than 780 parks and reserves across NSW - including parks in four World Heritage Areas and four National Landscapes. There are also six marine parks and 11 sites on the National Heritage List. NPWS is part of the Department of Environment and Climate Change NSW.

CONTACT US

For information on NSW's national parks and the great activities on offer, phone the Environment Line on 1300 361 967 or visit www.nationalparks.nsw.gov.au