Welcome to the Spring issue of Naturescapes, the NSW National Parks and Wildlife Service's e-newsletter for visitors. Wildflowers and wildlife are some of the vibrant highlights of Springtime in our national parks - around the State, flocks of birds are arriving on their annual migrations while heathland flowers are bursting into life. With the weather getting warmer, it's an ideal time to pack a picnic or the tent, get the family together and experience the outdoors afresh!
Spring is a special time of year to be outside and enjoying nature at its very best, and thanks to a long history of conservation and community dedication in NSW, we have an extraordinary legacy of national parks and reserves across the State in which to do so.

NSW's parks and reserves cover more than eight percent of the State, protecting an amazing range of landscapes and habitats, cultural heritage and native wildlife.
They also provide myriad opportunities for visitors to get into nature, whether sharing a picnic with friends, island hopping around Sydney Harbour, embarking on a surfing safari, or discovering the wonders of our outback wetlands.
Our parks are one of the State's most important assets to conserve, discover and share, and I'm truly excited to be taking on the role of Minister for such a diverse and rewarding portfolio.
With World Parks Day coming up on September 19 and Sydney Harbour Island Hopping to follow in October, I hope you will join with me in celebrating our remarkable natural and cultural heritage.
The Hon. John Robertson MLC
Minister for Climate Change and the Environment
Minister for Energy
Minister for Corrective Services
Minister for Public Sector Reform
Special Minister of State
All aboard for a unique island adventure
This October, get your sea legs on and discover a new side to the world's greatest harbour as Sydney's spectacular islands come alive for the first ever Sydney Harbour Island Hopping experience.
This event is part of Crave Sydney, a major celebration of Sydney's unmatched way of life, offering 31 days of food, outdoor art and fun.
Island Hopping will see visitors leap-frog around the harbour aboard the Island Hopper ferry every Saturday and Sunday from October 3 to 18, discovering the natural beauty and fascinating history behind four of the harbour's iconic islands - Fort Denison, Shark Island, Clark Island and Garden Island.
Each island will offer a unique smorgasboard of experiences and activities. At historic Fort Denison, explore Sydney's last line of maritime defence while enjoying fine food and live music amidst the battlements.
Then hop over to family-favourite Shark Island for a relaxing picnic amongst a live outdoor theatre of mysterious prehistoric predators and mythical Indigenous creatures.
On Clark Island, experience traditional Aboriginal culture with the Tribal Warriors, before moving on to Garden Island for a taste of Australia's Naval history.
Starting and finishing at Circular Quay, the Sydney Harbour Island Hopper will depart every half hour between 9.00am and 3.00pm on the first three Saturdays and Sundays of October.
Ticket prices include all ferry travel and entertainment on each island. For more information or to book your tickets, visit www.harbourislandhopping.com.au or phone 136 100.
Win Sydney Harbour Island Hopping tickets!! To go into the draw to win one of four Sydney Harbour Island Hopping Family Packs, including two Adult and two Child tickets, or one of two Island Hopping Double Passes, send us an email with your full name, address and phone number. Entries close at midnight on Sunday, 27 September 2009. Terms and conditions apply.
Timeless tea dances come to Rodd Island
Young-at-hearts, dig out your dancing shoes and head to Rodd Island on Sydney Harbour this October as we take a trip down memory lane and revive a society tradition as part of Crave Sydney.
On October 21 and 22, Rodd Island will open the doors of its remarkable dance hall for a series of Tea Dances that evoke the romance and style of the socials that took place there early last century.
A seven-piece dance orchestra will set a sophisticated mood with tunes from the 20's, 30's and 40's. Dance the hours away or just enjoy the atmosphere, whether you're reliving the musical magic of the period or experiencing it for the first time.
Over the two days, the dances will start at 11am, 1.30pm and 4pm. Enjoy morning or afternoon tea, or a light lunch, depending on when you head over. Ferries will leave from Circular Quay 45 minutes prior to dances commencing, so there'll be plenty of time to sit back and enjoy the ambience of this charming island with friends.
To book your tickets or find out more, visit www.harbourislandhopping.com or phone 136 100.
Pack your hamper for the Perfect Picnic
It doesn't get much better than a chilled Sunday afternoon kicking back on a harbour island with your mates and some spectacular views. Throw in a few laid-back beats from DJ Lady Tre and you have the Perfect Picnic.
On Sunday, October 25, Clark Island on Sydney Harbour will set the stage for the biggest picnic the island has ever seen, as part of Crave Sydney.
Just what makes your picnic perfect is entirely up to you – you can throw down a rug and do as little as you like, or head off and explore the island, or join in a game of bocce, badminton or giant chess.
If you're feeling inspired, the floor's yours to get creative – there'll be prizes throughout the day for the best costumes and picnic setups.
The Perfect Picnic is BYO food and alcohol, though you'll be able to grab soft drinks at the bar.
From 11am, you'll be able to pick up a ferry to Clark Island every half hour from Circular Quay, with the ferry ride and island entertainment included in the price of your ticket.
For more information or to book tickets for you and your friends, visit www.harbourislandhopping.com.au or call 136 100.
Spotlight on...World Parks Day
Join us for a global celebration of parks on Saturday, September 19 as we recognise World Parks Day with free entry to NSW national parks across the State.
NSW has more than 790 national parks and reserves, from peaceful urban escapes such as Sydney Harbour National Park to the great wilderness of Wollemi National Park. Each park is home to myriad native animals and plants, and a wide range of nature-based experiences, whether you're after quiet respite or a challenging hike.
With the weather warming up, it is a great time to get into a park and go for a walk, swim at the beaches and lakes, ride your bike or simply get together with friends and family for a BBQ or picnic. Camping is also available in many parks, if you want to make a weekend of it.
World Parks Day is organised by Parks for Life, an international initiative created by the International Parks and Green Space Alliance to highlight the significance of parks in a global context, while encouraging people to enjoy their local parks and appreciate the importance of green space.
Entry will be free to most NSW national parks on the day.
To find a national park near you, visit our website or phone 1300 361 967.
If you're scouting for things to keep the kids entertained this October school break, why not join a Discovery tour and introduce your little beasties to some of the native beasties that live in our national parks?
The NSW National Parks Discovery Walks, Talks and Tours program offers a wide range of fun, nature-based kids activities across the State, with plenty on during school holidays. Tours and activities are designed to engage children in practical, hands-on sessions that bring them face-to-face with nature and the environment.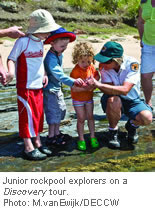 At Ku-ring-gai Chase National Park this October, kids can discover the amazing world of reptiles, learn to recognise bird calls and make their own bird beaks and wings, or search for sleeping possums and the animals that call the gum tree home.
At Brisbane Water National Park, watch the kiddies get their hands dirty as they become Junior Discovery Rangers for a day and dip net for tadpoles and other critters of the creek. And at Wyrrabalong and Sydney Harbour national parks, enjoy their delight as they discover unusual sea creatures on rockpool rambles.
Kite flying, tag-along adventures, lighthouse tours and star-gazing evenings are just some of the many tours and talks taking place in parks across NSW.
For information on what's coming up in a park near you during the October break, contact your local park office or keep an eye on the Guided Tours section of our website.
Win a Family Discovery Pass for 2 Adults and 2 Children, worth up to $75! To enter the draw, send us an email with your full name, address and phone number. Entries close at midnight on Sunday, 27 September, 2009. Terms and conditions apply.
Sunday sunsets on Sydney Harbour
Enjoy spectacular Sydney Harbour sunsets every Sunday throughout Spring and Summer from the iconic harbour island of Fort Denison.
From September 6, Fort Denison Restaurant will be offering Sundays 'til Sundown, with extended opening hours for late lunches to take in the sunset over the Harbour Bridge.
Dine away the late afternoon with delicious options from the Restaurant's a la carte menu, while a Jazz trio entertains on the forecourt.
Bookings are essential – phone 02 9358 1999 or visit www.tecatering.com.au
Who: Tri State Safaris
What: Tri State Safaris is a multi-award winning, EcoCertified tour operator offering 4WD short breaks and one day tours for couples and small groups in Outback NSW and beyond.
The company's philosophy is 'Remember when holiday was a real adventure?' and the accent is on learning and having fun.
You can't go past a bushwalk for a truly authentic nature experience and each issue, we pick a park and give you the long and the short of its walks! This edition, we explore the majestic vistas and dramatic surrounds of Morton National Park, just a stone's throw south of Sydney.
In our regular feature Camp site, we bring you updates, highlights, tips and info on camping and caravanning in NSW's national parks. This issue, we check out the inspiring Warrumbungle National Park as a camping destination and share some handy camping hints and tips.
In which NSW national park was this picture taken?
In this park you'll find the largest granite rock in Australia - it's 750 metres long, 500 metres wide and 200 metres high!
You can camp in this park, and there are a number of walks that make the most of its amazing granite landscape, including a track to the summit of our mystery rock, which includes canyons, stone arches and panoramic views well into Queensland on a clear day.
Correctly name the park in question and you'll go into the draw to win a NSW National Parks All Parks Pass, valued at $190.
To enter, send us an email with your answer and your full name, address and phone number. Entries close midnight on Sunday 11 October, 2009. Terms and conditions apply.
With close to 800 national parks and reserves around NSW, there's always plenty going on behind the scenes to manage and care for our parks and ensure visitors have a memorable experience. Here we bring you snippets from around the state on what's new, improved, happening or award-winning.
In this issue:
> Have a say in planning for Sydney Harbour National Park
> Join the new Friends of Royal National Park group
> Check out our award-winning lighthouse accommodations
Congratulations to T. Tranter of Medlow Bath, NSW, who submitted the winning Postcard from the Park in our Winter issue competition with his photo "Life above the clouds".
The image was taken just on sunset at Govett's Leap, Blackheath, in the World Heritage Blue Mountains National Park, looking towards Sydney with Mt Hay just visible above the fog.
Get your diary ready, there's plenty happening in your national parks this Spring, from Island Hopping fun on Sydney Harbour to an ambient sculpture exhibition at Trial Bay Gaol to a spectacularly sited concert in the Warrumbungles. Read on to find out what's coming up.
18 August - 28 September

Scott Jackson Exhibition, Sea Acres Rainforest Centre, Port Macquarie


A showcase of original paintings, limited edition prints and cards with bush, beach, rainforest and coastal environment themes by mid-north coast artist Scott Jackson. After, enjoy a walk along the Centre's Rainforest Boardwalk and a cuppa at the Café. The Centre is open 9am to 4:30pm. Entry to the exhibition is free.
19 September

World Parks Day


Join us for a global celebration of parks as we recognise World Parks Day with free entry to most NSW national parks across the State. Read about World Parks Day in this issue.



International Coastal Cleanup


Visit the website for details of this international effort to remove trash from the world's beaches and waterways and encourage change to prevent marine debris.
19 & 20 September

Nocoleche Nature Reserve's 30th Anniversary Celebrations


NPWS invites locals and visitors to come 'Back to Nocoleche' to help celebrate 30 years of Nocoleche Nature Reserve. Phone 02 6872 2744 for details.
26 September

Eco Family Fun Day, Lane Cove River Tourist Park


Come along and enjoy a fun-filled 'Eco Family Day' at the tourist park. There'll be live music, kids activities, a sausage sizzle, and displays from a range of businesses offering eco-friendly and sustainable solutions for your home.



Blue Mountains National Park 50th Birthday Celebrations


Enjoy free entry to the park and a day of fun and activity at Euroka to celebrate the park's 50th birthday. Free games, crafts, Aboriginal cultural activities, guided bushwalks and more. Enjoy a 'Starry, Starry Night' Introduction to Astronomy that evening at Linden Observatory. Visit our website or phone 02 4787 8877 for details.
27 September

Blue Mountains National Park 50th Birthday Celebrations


Join us at Wentworth Falls Picnic Area for free games, crafts, Aboriginal cultural presentations and activities, guided bushwalks and more. Phone 02 4787 8877 or visit our website for details.
27 September - 18 October

Sculpture in the Gaol, Trial Bay Gaol, South West Rocks


A unique exhibition of 55 works by some of the region's best sculptors. Relax with a cuppa and cake in the majestic surrounds of Trial Bay Gaol and place your vote for the NAB People's Choice award. Many works will be available to purchase. To find out more, phone 02 6566 6168 or visit the event website. The Gaol is open daily from 9.00am to 4.30pm.
3 - 18 October

Sydney Harbour Island Hopping


Hop your way around Sydney Harbour and discover the history, culture and natural beauty of Fort Denison, Shark Island, Clark Island and Garden Island as part of a fun-filled 'island expedition' taking place every Saturday and Sunday during the first three weeks of October, as part of Crave Sydney. Bookings are essential – phone 136 100 or visit the event website.
12 - 23 October
Discovery Walks Talks and Tours - October School Holidays Program
Discovery walks, talks and tours run year-round in our national parks and there's always plenty happening during school holidays for the kids. Keep an eye on our website for updates on what's coming up in a park near you.
21 & 22 October

Rodd Island Tea Dances, Sydney Harbour


Be transported to a bygone era as Rodd Island hosts a series of Tea Dances with music from the 20's, 30's and 40's, as part of Crave Sydney. There will be three two-hour sessions per day, at 11am, 1:30pm and 4pm. Bookings are essential – phone 136 100 or visit the event website
25 October

Perfect Picnic on Clark Island, Sydney Harbour


DJ Lady Tre will set the tone for an ambient afternoon chilling on Clark Island at the Perfect Picnic, part of Crave Sydney. BYO picnic and drinks and get your creative juices flowing – there will be prizes throughout the day for the best costumes and picnic setups. Explore the island, join group games, or just lay back among the trees and enjoy the biggest picnic Clark Island has ever seen. Bookings are essential – phone 136 100 or visit the event website.
14 November

Crooked Mountain Concert, Warrumbungle National Park


Rock on in a truly unique setting with music legend Jon English, country duo the Harmonators, and Jonah's Road at this renowned music festival. Pack a picnic, or treat yourself to the wonderful regional food and wine on offer from stalls open throughout the evening. Tickets are available for pre-purchase only through the Warrumbungle National Park Visitor Centre – phone 02 6825 4364 or check out the events section at www.outbacknow.com.au.
For updates on other events, activities and tours in parks near you, visit our website or contact your local park office
Help protect the places you love
Get involved in the protection of your national parks and their wildlife through the Foundation for National Parks & Wildlife. Click here to make a donation or subscribe to PAWS, the seasonal newsletter of the Foundation.
Congratulations to the winners of our Naturescapes Winter Issue competitions.

> Fort Denison Chip n Chat competition - L. Waite of Kenthurst, NSW & D. Hewes of Mt Colah, NSW
> Discovery Walks, Talks and Tours Family Pass competition - B. Good of Matraville, NSW
> Postcards from the Park competition - T. Tranter of Medlow Bath, NSW



GREAT




THINGS TO DO


Visit Shoalhaven Heads
International Airport

Around October each year, Shoalhaven Heads on NSW's South Coast transforms into an open air terminus as huge numbers of shorebirds arrive on their annual migration from the northern hemisphere.

Along with local species, little terns, hooded plovers, pied and sooty oystercatchers arrive in mid-Spring, find a mate, lay eggs, raise their chicks and then depart again around March.

One of the most significant shorebird sights on the NSW coast, Shoalhaven Heads is also an important Aboriginal site, and local children together with Aboriginal Elders have constructed a mosaic and display signs interpreting the site's significance. Naming it Shoalhaven Heads International Airport for the birds that arrive from abroad, the site provides information on the birds in an 'airport' format, with signs for the arrival lounge, the parenting room, catering, customs and more!

To get there, head along Seven Mile Beach Road from Nowra or Gerroa to Shoalhaven Heads, then along River Road parallel to the Shoalhaven River to the end. You'll find picnic, barbecue facilities, shelter sheds and toilets at the site.

For more info, contact the NPWS Nowra Office on 02 4423 2170.




GREAT




PLACES TO STAY




Thomson Cottage,




Byron Bay

What do you get when you mix million dollar views with a rainforest backdrop, a superbly restored heritage beach shack and direct access to one of the world's best known beaches? A national park holiday you won't soon forget!

Thomson Cottage is the latest of four circa 1920's-1950s beach shacks in Cape Byron State Conservation Area to be beautifully restored and offered as a stunning holiday escape.

Wake to water views and the sound of crashing surf. Chill at the cottage, relax on the beach or get out and enjoy Byron's many activities!

Sleeping up to six people in three bedrooms (two queens and two singles), Thomson Cottage has all the mod cons plus a spacious front porch taking in Byron's spectacular beach and hinterland vistas.

Thomson Cottage is on Lighthouse Road, just minutes by car or a 10 minute walk from the centre of Byron Bay. For bookings and information, contact the Professionals Byron Bay on 02 6685 6552 or visit their website.







WILDLIFE SPOT




The Little Penguin

It's the world's smallest penguin, weighing in at just one kilo, but with its waterproof, torpedo-shaped body and flippers, the Little Penguin is perfectly adapted for life at sea.

Also known as the Fairy Penguin, the Australian family of this small flightless bird makes its home along the southern edge of mainland Australia and in Tasmania.

Most breeding pairs live in colonies and usually mate for life. Colonies tend to be on islands, but there are scattered locations left on the mainland, including a colony of around 60 pairs at Manly in Sydney.

Their natural predators are sea lions, leopard seals, orcas and sea eagles, but humans are posing a growing threat, with noise, development and dogs a problem for breeding colonies on land, while oil spills, plastics and debris can create hazards for them in the water.

Find out how you can help protect Little Penguins at the Backyard Buddies website.







TELL US




WHAT YOU THINK

Send us your feedback and story suggestions for future issues of Naturescapes – Click here





ABOUT NSW




NATIONAL PARKS

NSW's national parks and reserves are managed and cared for by the NSW National Parks and Wildlife Service. There are more than 790 parks and reserves across NSW - including parks in four World Heritage Areas and four National Landscapes. There are also six marine parks and 11 sites on the National Heritage List. NPWS is part of the NSW Department of Environment, Climate Change and Water.

CONTACT US

For information on NSW's national parks and the great activities on offer, phone the Environment Line on
1300 361 967 or visit nationalparks.nsw.gov.au