Place-making in national parks
Place-making in national parks
Ways that Australians of Arabic and Vietnamese background perceive and use the parklands along the Georges River, NSW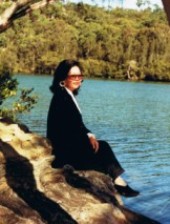 Lien Thi Ho at the Georges River National Park c2000. Photo: Pham family
When recently arrived migrants visit Sydney's national parks, they engage in the work of place-making that turns these landscapes and locales into familiar places of attachment.
The authors of Place-making in national parks, Denis Byrne, Heather Goodall and Allison Cadzow, carried out in-depth interviews and focus group discussions with Australians of Arabic and Vietnamese background in order to better understand how they experience the riverside environment of Georges River National Park. The book gives an insight into what the parks look and feel like to recent migrants and reveals how activities like picnicking, walking, fishing and even jet-skiing are critical in providing a sense of belonging. For many of the interviewees, these activities have been their first experience of the Australian natural environment.
Place-making in national parks was produced as part of a collaborative project between the Office of Environment and Heritage and the University of Technology Sydney. The book includes an overview of the traditions of park creation, park use, and nature visitation in Asia and the Middle East. It also discusses issues of social equity and multiculturalism in the context of park management.
Or it is available in three sections:
Migrants from Toula village in Lebanon picnicking at Georges River National Park. Photo: Allison Cadzow
The format and structure of this publication may have been adapted for web delivery.
Page last updated: 10 January 2013