Soil and Land Resources of the Hawkesbury-Nepean Catchment: interactive DVD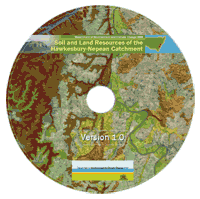 This interactive data DVD, the first of its kind in NSW, maps the entire Hawkesbury-Nepean catchment, providing comprehensive soil and land information at a catchment and property scale for land owners, land managers and planners.
Starting with a broad satellite view of the catchment displayed on your PC screen, you can add layers of information to the map such as salinity hazard, erosion, soil acidity, productivity, capabilities and constraints for rural and urban uses.
The DVD includes a spatial viewer and 21 interactive maps showing the distribution of the 282 soil landscapes described within this important 2.18 million hectare catchment, plus their specific capabilities, hazards and limitations. It's easy to find your area of interest using the background SPOT5 satellite image.
From the maps you can also access a report for each soil landscape identifying its key landforms, soils, capabilities and limitations.
The DVD costs $110 ($100 + GST) and is available from the DECCW Information Centre - ph. 131 555 or email info@environment.nsw.gov.au , or from ShopNSW
For further information email soils@environment.nsw.gov.au.
Publication currently not available for download.
The format and structure of this publication may have been adapted for web delivery.
Page last updated: 05 February 2014