Blue Mountains Adventure Company
Licensed recreation/tour operator
One hundred kilometres west of Sydney lies one of nature's most magnificent creations, the World Heritage listed Blue Mountains.
Endless stretches of sandstone cliffs, dramatic waterfalls and hidden canyons make up a landscape of stunning natural beauty. It provides a fantastic environment for the thrilling adventure activities of abseiling, canyoning, rock climbing, mountain biking and bushwalking - a lifetime's worth of adventuring is to be had in Sydney's beautiful backyard.
Blue Mountains Adventure Company (BMAC) was established in the Blue Mountains in 1984 as a specialist abseiling and rock climbing school. A few years later later BMAC became Australia's first licensed canyoning tour operator.
Our guides are highly qualified, experienced and safety conscious and mighty friendly. Our adventures still run for small groups, so you get the attention and experience you deserve. We'll run most of our expeditions for two or more people on any day. Tours are available all year round (except Christmas and Boxing Day.)
Visit our website or call us anytime to find out more.
Main area of operation: Katoomba. Nearest airport(s): Sydney.
Website: http://www.bmac.com.au
Contact Details
Phone: 02 4782 1271 (international +612 4782 1271)
Email: bmac@bmac.com.au
Office Location: 84a Bathurst Road, Katoomba NSW 2780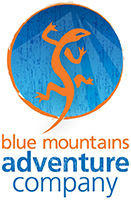 Page last updated: 20 February 2013