Getabout Adventures
Licensed recreation/tour operator
Join Getabout Adventures for a tour or training, and experience our award winning service. As the first nationally accredited tour operator in NSW, our tours are informative, fun and educational.
Our instructors and guides are committed to providing an enjoyable and safe experience. You can tag along in your own vehicle or join as a passenger in our luxury vehicles. Getabout with us and get an adventure of a lifetime!
Main area of operation: Katoomba. Nearest airport(s): Sydney.
Website: http://www.getabout.com.au
Contact Details
Phone: 1300 660 320
Fax: 02 8822 5699 (international +612 8822 5699)
Email: julie@getabout.com.au
Office Location: 32 Witney Street, Prospect NSW 2148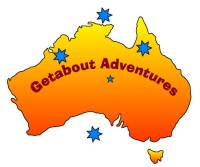 Page last updated: 31 October 2012